New + Notable: The Helm Website Refreshed
September 8th, 2023
Welcome to thehelmclothing.com refreshed. Our mission at The Helm is to provide a top-tier, luxury shopping experience to in-store and online shoppers alike, and we feel our new website will help elevate that experience. We have dedicated a lot of time and careful consideration to how we can better serve our online customers which has led to a fresh new look for our site along with exciting new features like an exclusive member portal, appointment scheduling, and an elevated product page.
We're so excited you're here and we can't wait for you to explore the new features yourself! In the meantime, here's an overview of what's new: 
An Exclusive Member Portal
Online shoppers will now have the option to become a Helm Member. Creating your account is simple and free, and will enable you to see previous orders, view tracking updates after you order, and receive exclusive discounts and shopping opportunities. We're so excited to introduce this feature and give our shoppers a more intimate user experience.
Appointment Booking
Want to schedule a personal styling appointment? Book a time to come in-store and visit your sales associate? Need a custom suit? Now, instead of having to call into the store to book an appointment, you can do it directly on our site. When you visit our Appointment Scheduling page, you will be able to see all of the booking times available, receive a calendar invite for your designated appointment time and receive reminders.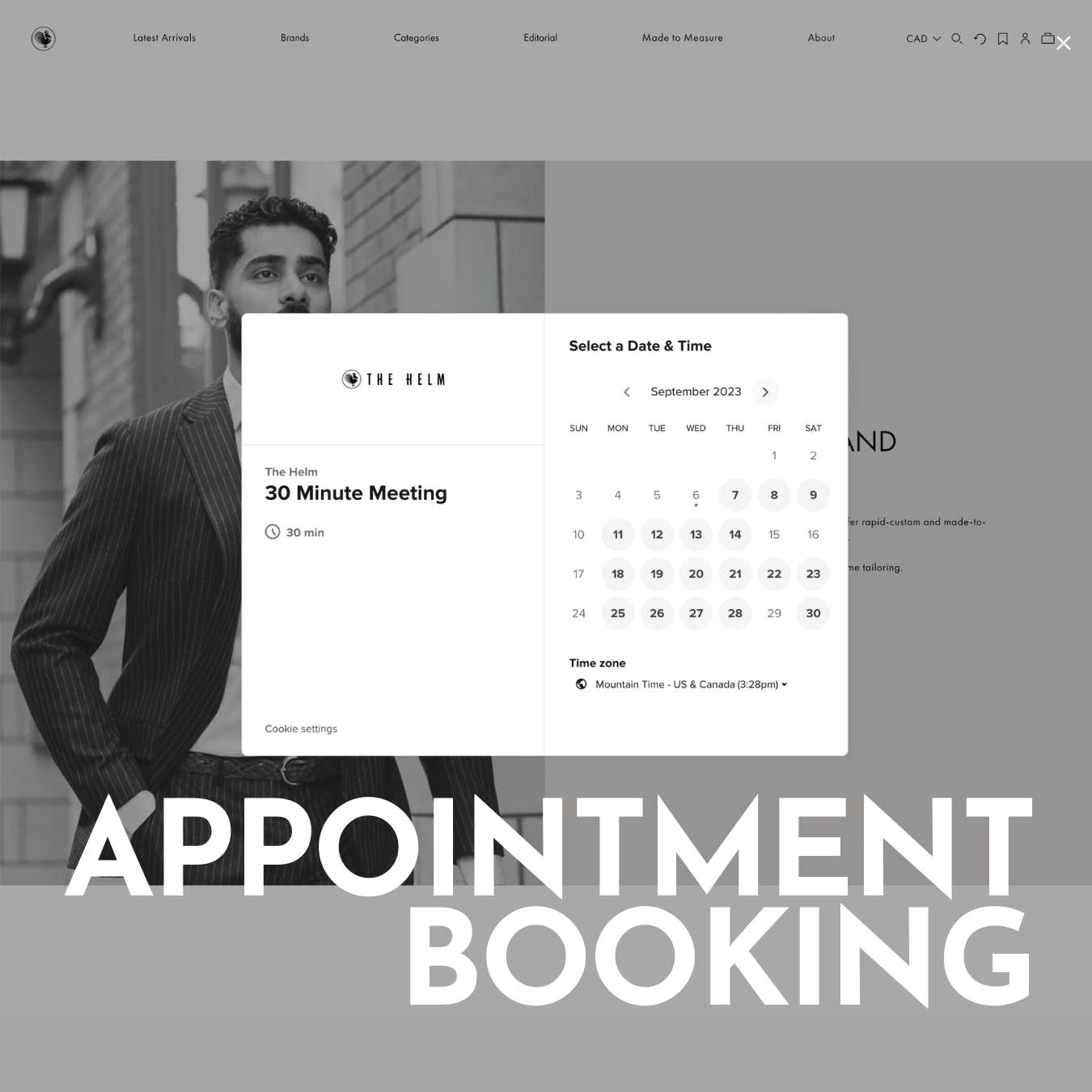 An Elevated Product Page
When developing our new product page, we wanted to ensure our customers were equipped with all of the information they would need to make a confident purchasing decision and enjoy a seamless user experience. You'll notice a slight change to the overall layout of the product pages, but the most notable features will be the option to select colour variations. Now, when we have one product that comes in multiple colours, like our ZEGNA Triple Stitch Sneakers, you will now be able to see all of the colour variations in one place. Additionally, you will have the ability to "Shop the Entire Look". So if you like the way we've styled an outfit, you can shop the look directly from the product page, making for a more efficient shopping experience.
Other Notable Features + Services
As we were building our new site, we realized that historically, we haven't talked much about all of the services we offer! You likely know about our luxury clothing options, and our made to measure specialties, but did you know we also offer:
Expert in-house tailoring - need something altered? We have you covered.
Wedding and formal attire - custom and off-the-rack options for you and your entire wedding party.
Custom clothing and made to measure - from suits to casual wear, order clothing made just for you.
Personal shopping - interested in a personal shopping experience and additional styling support? Book a personal shopping experience.
After-hours service - not able to make it in store during our store options? Schedule an after-hours appointment with one of our style experts.
In-home wardrobe audits - want expert advice on your current wardrobe? We'll come to you for an in-home audit.
Virtual style consults - need general styling advice and support? Book a virtual styling consultation with one of our style experts.
We really are here to help with all of your fashion and styling needs and we care about delivering exceptional service. We hope you enjoy our new website, and we look forward to shopping with you soon.
Easy Returns
We understand that things don't always work out. We offer easy returns in-store or by mail.
See it in-store
Come see the product up close at our Flagship Store.
Pickup in store
For local orders, in-store pickup is available for no cost.
Lifetime Service
Your clothing should always represent you well, whether you bought it yesterday or 5 years ago.
The Flagship
Our brand new flagship store in Edmonton, Alberta is now open to serve you! In our mission to provide Edmonton with an elevated experience, our vision for this store was something spanning multiple floors with a unique experience on every level.