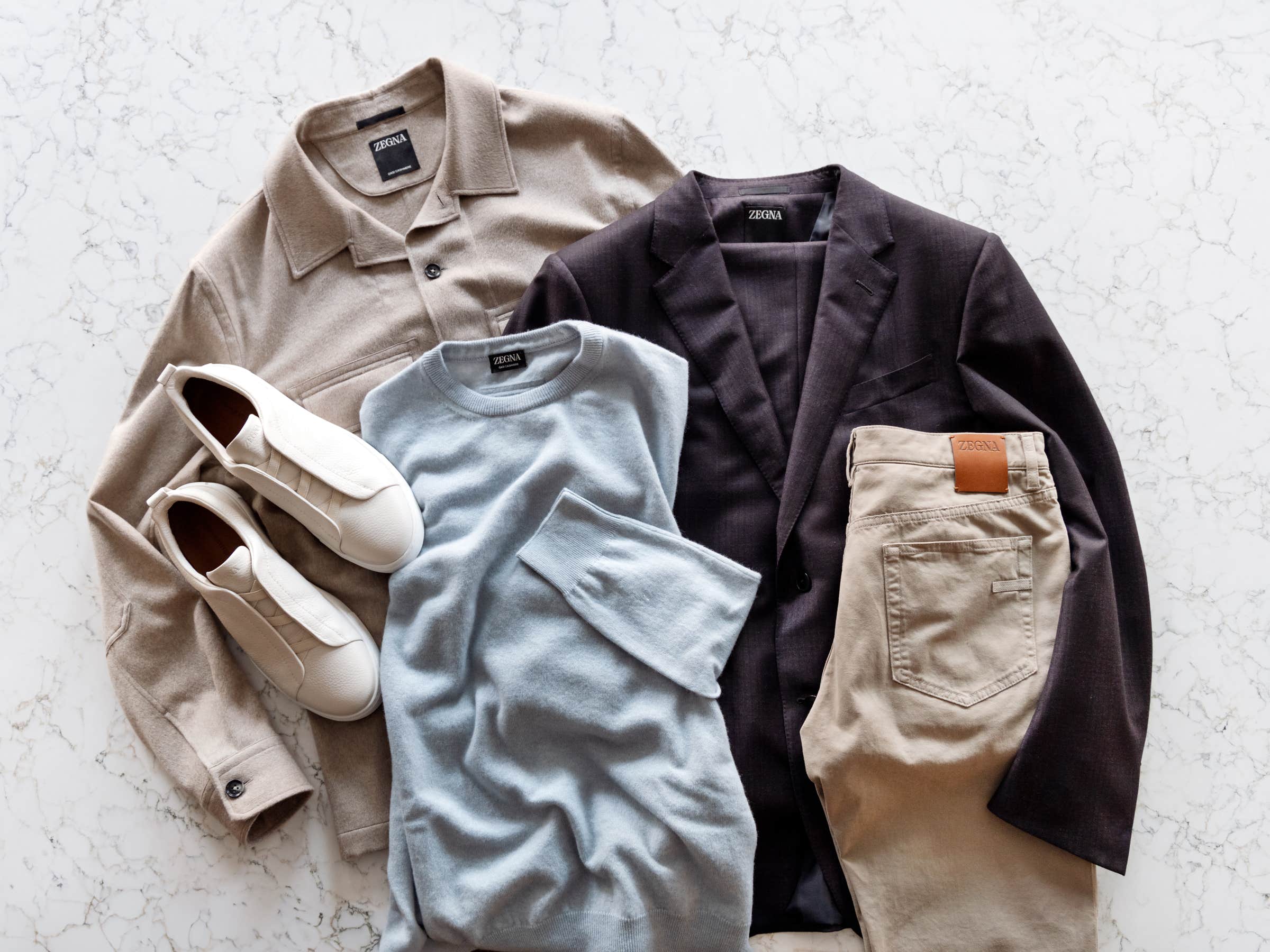 Must-Have ZEGNA Items
Founded by Ermenegildo Zegna in the small Italian town of Trivero in 1910, ZEGNA is renowned for its innovative fabrics. Envisioned with a strong focus on tradition and craftsmanship passed down from generation to generation, Zegna's vision for the company was to provide fabrics that were not only of exceptional quality but also innovative in terms of design and performance. 
Since its inception, the company expanded from fabric production into suit manufacturing and after going public in 2021, ventured into a new era of leisurewear all while maintaining a commitment to the highest standards of tailoring and craftsmanship. Even with the pivots, and evolution of the fashion industry, the family-owned brand has maintained its strong focus on tradition and stayed true to Ermenegildo Zegna's vision delivering innovative fabrics like Oasi Cashmere, Trofeo Wool and their CASHCO blend of cashmere and cotton to the fashion industry.
Whether you're a long-time ZEGNA-wearer or it's a brand that is new to you, these are the must-have ZEGNA items:
Oasi Cashmere Crewneck
When it comes to the Oasi Cashmere Crewneck, ZEGNA demonstrates its mastery of combining luxury with everyday wearability. Their crewneck sweater isn't just an ordinary item—it's an experience. Whether layered over a collared shirt, worn solo, or underneath an overshirt,  it's the perfect embodiment of quiet luxury.
What Makes It Unique: ZEGNA's Oasi Cashmere redefines softness. The comfort and sophistication it brings to your wardrobe are unmatched.
Oasi Cashmere Overshirt
The Oasi Cashmere Overshirt is a testament to ZEGNA's mastery of combining elegance with comfort. This item can be dressed up or down and blurs the lines between a shirt and a lightweight jacket. The soft cashmere construction provides a sheen making it a great option for replacing your everyday sport jacket, or you can pair it with your favourite denim and a pair of sneakers for a refined casual look - either way, the Oasi Cashmere Overshirt is a versatile layering piece you need in your closet. The overshirt is crafted in a variety of colours extending its versatility even further. 
What Makes It Unique: ZEGNA's Oasi Cashmere fabric is a standout feature. Known for its superior softness and warmth, it's a fabric that encapsulates luxury and relaxation in a single thread.
Trofeo Wool Burgundy Suit
The Trofeo Wool Burgundy Suit is the epitome of ZEGNA's commitment to impeccable tailoring and luxurious fabrics. This suit speaks volumes without uttering a word, exuding confidence and charm. The rich burgundy hue is a refreshing departure from traditional suiting colours, making a statement while maintaining sophistication. Pair it with a burgundy crewneck for a refined tonal look or pair it with a crisp white dress shirt and a patterned tie for a more classic look.
What Makes It Unique: Trofeo Wool, a fabric exclusive to ZEGNA, is the star here. Renowned for its fineness and resilience, it ensures that your suit not only looks impeccable but also retains its shape wear after wear.
Stretch Cotton 5-Pocket City Fit Jeans
ZEGNA understands that modern elegance isn't confined to suits and dress shirts. The brand's City Fit 5-Pocket Jeans offer the perfect balance between casual and refined. These jeans are tailored for comfort and style, featuring a contemporary fit that flatters without sacrificing movement. Pair them with a tailored blazer and a casual shirt for an effortlessly cool ensemble that takes you from day to night.
What Makes It Unique: The blend of stretch cotton ensures that these jeans not only look sharp but also feel comfortable for all-day wear.
Triple Stitch Sneaker
ZEGNA's Triple Stitch Sneakers redefine casual footwear with a touch of opulence. These sneakers are the intersection of luxury and sporty, making them a versatile addition to your wardrobe. The variety of textures, and the triple stitch detail sets them apart from ordinary sneakers. Whether paired with jeans, chinos, or even a suit for the daring, these sneakers make a statement without compromising on comfort.
What Makes It Unique: The variety of textures available in these sneakers elevates them from streetwear to high-end fashion, showcasing ZEGNA's ability to transform the ordinary into the extraordinary.
In conclusion, ZEGNA's collection showcases the brand's unwavering commitment to craftsmanship, innovation, and timeless elegance. From the Oasi Cashmere Overshirt to the Triple Stitch Sneakers, each piece embodies the brand's ethos of marrying luxury with comfort and style. Elevate your wardrobe with these ZEGNA pieces and experience the epitome of refined fashion. After all, when it comes to making a lasting impression, ZEGNA knows how to make every thread count.
Easy Returns
We understand that things don't always work out. We offer easy returns in-store or by mail.
See it in-store
Come see the product up close at our Flagship Store.
Pickup in store
For local orders, in-store pickup is available for no cost.
Lifetime Service
Your clothing should always represent you well, whether you bought it yesterday or 5 years ago.
The Flagship
Our brand new flagship store in Edmonton, Alberta is now open to serve you! In our mission to provide Edmonton with an elevated experience, our vision for this store was something spanning multiple floors with a unique experience on every level.