Rugged leathers and delicate cashmeres, wardrobe staples and statement pieces, comfortable basics and items that will push your style boundaries, The Helm's Fall Winter 2023 Collection was curated to be divergent. It exemplifies the delicate contrast of rugged elegance. Throughout this guide, we'll provide an overview of what you can expect to see at The Helm this season, as well as what to look for across the greater fashion scapes.
Trends to Look For
This Season's giving rustic, western, masculine
Western is no longer reserved for southerners and rural dwellers. While you may expect the southwestern flair from RRL Ralph Lauren, you'll notice western touches from the likes of Brunello Cucinelli, Woolrich, Ralph Lauren Purple Label and Boglioli throughout our Fall Winter 2023 collection. We're seeing masculine, rugged looks with refined leather, western shirts complete with front chest pockets and classic tan-coloured suede.
Notable items:
Brunello Cucinelli Cotton-Corduroy and Shearling-Trimmed Shell Down Vest

Polo Ralph Lauren Leather Jacket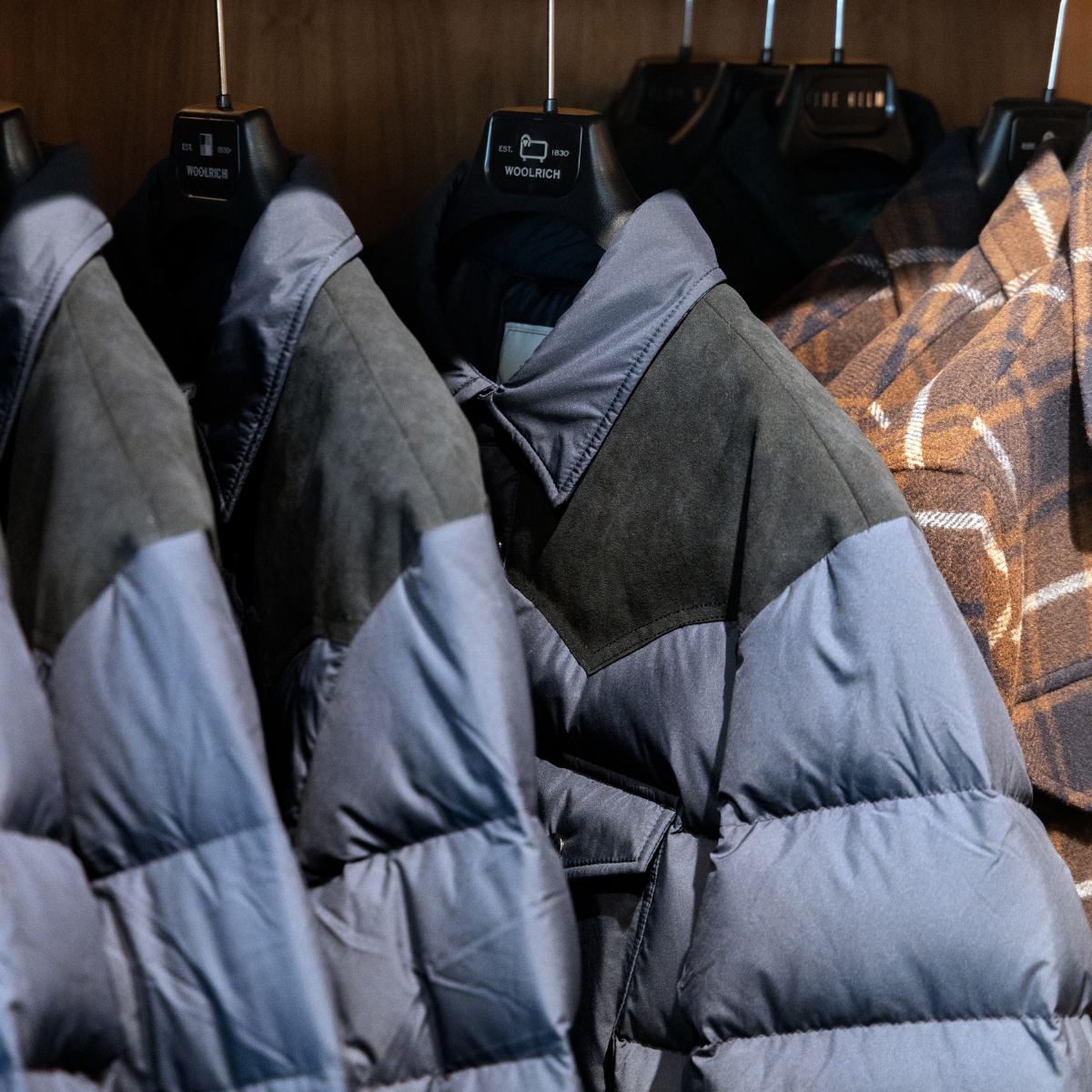 Woolrich Western Puffer Overshirt
Is there such a thing as too many layers?
Layering is more important than ever when it comes to putting together a refined look this season. Not only does layering provide peace of mind when it comes to staying comfortable in temperature highs and lows throughout fall, but it also adds a sense of depth to an outfit. We're seeing lightweight cashmere bases, chunky knit sweaters, overshirts and overcoats all making for great layering pieces.
Notable items:
Materials To Shop For
What do leather, corduroy and cashmere all have in common? Besides being the dominating materials of the season, they're durable, natural in origin, premium quality and perhaps most notably, they're classic. All three of the aforementioned materials have a timeless quality about them that transcends fashion trends and makes them a go-to item in your closet year after year. They simply never go out of style.
Leather: 
Durable, long-lasting, versatile - and making its way into many brand collections. From simple accessories like the RRL Ralph Lauren Woven Leather Belt to Leather Over Shirts from Ralph Lauren's Polo and Purple Label collections to bomber jackets from brands like Brunello Cucinelli and Valstar, leather is, dare we say, hotter than it's ever been. We love leather because of its versatile styling options; the looks leather can help you achieve range from rugged and masculine to simple and classic.
Notable items:
Leather Jacket Collection from Valstar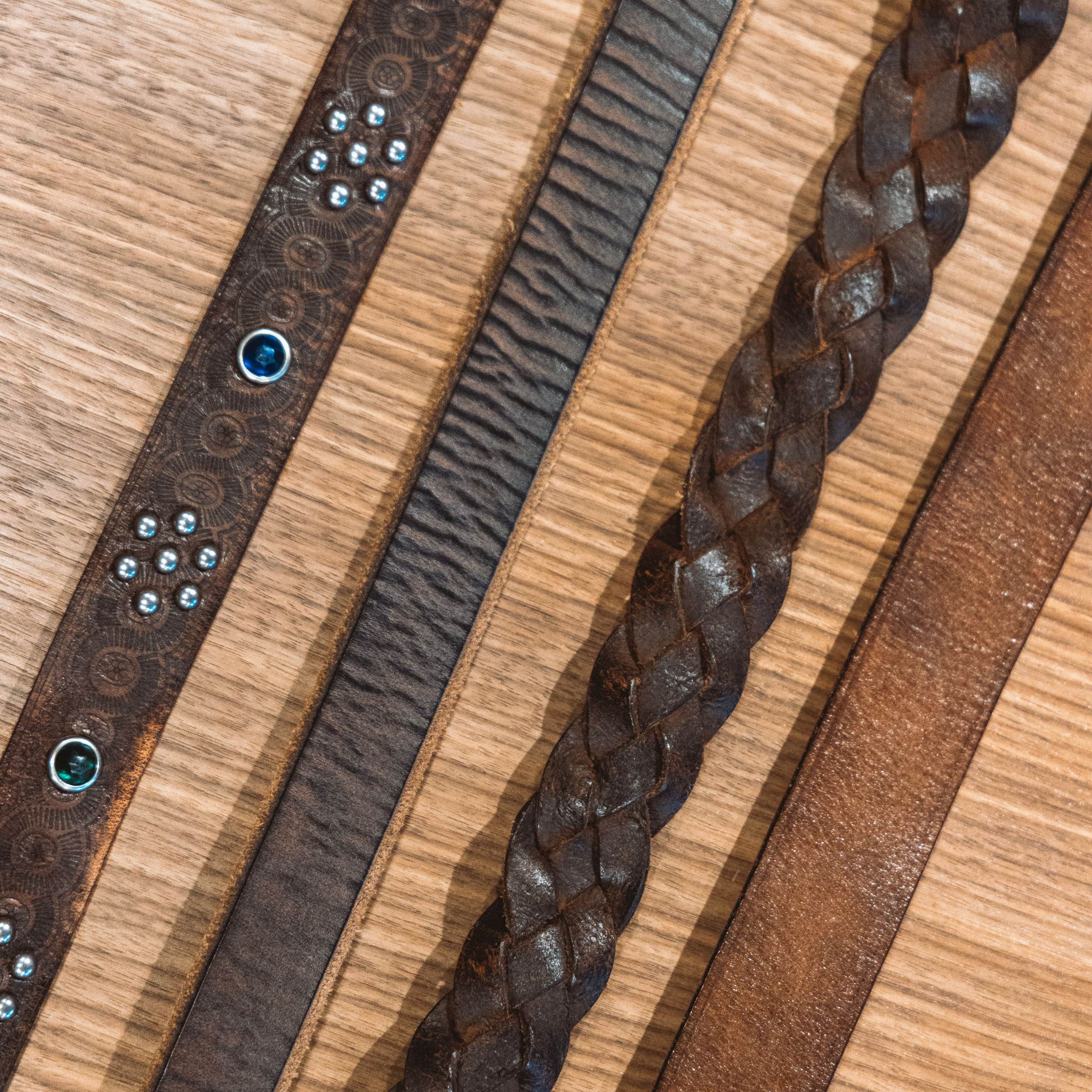 RRL Ralph Lauren Leather Belts
Corduroy:
Caps, shirts, pants, puffers - we're talking corduroy from head to ankle (we haven't seen corduroy shoes yet, but we wouldn't be surprised if those started making appearances). From casual wear to lux items - brands across the spectrum are riding the corduroy wave this season. Corduroy provides a simple way to add a bit of texture to your looks in addition to pops of colour.
Notable items: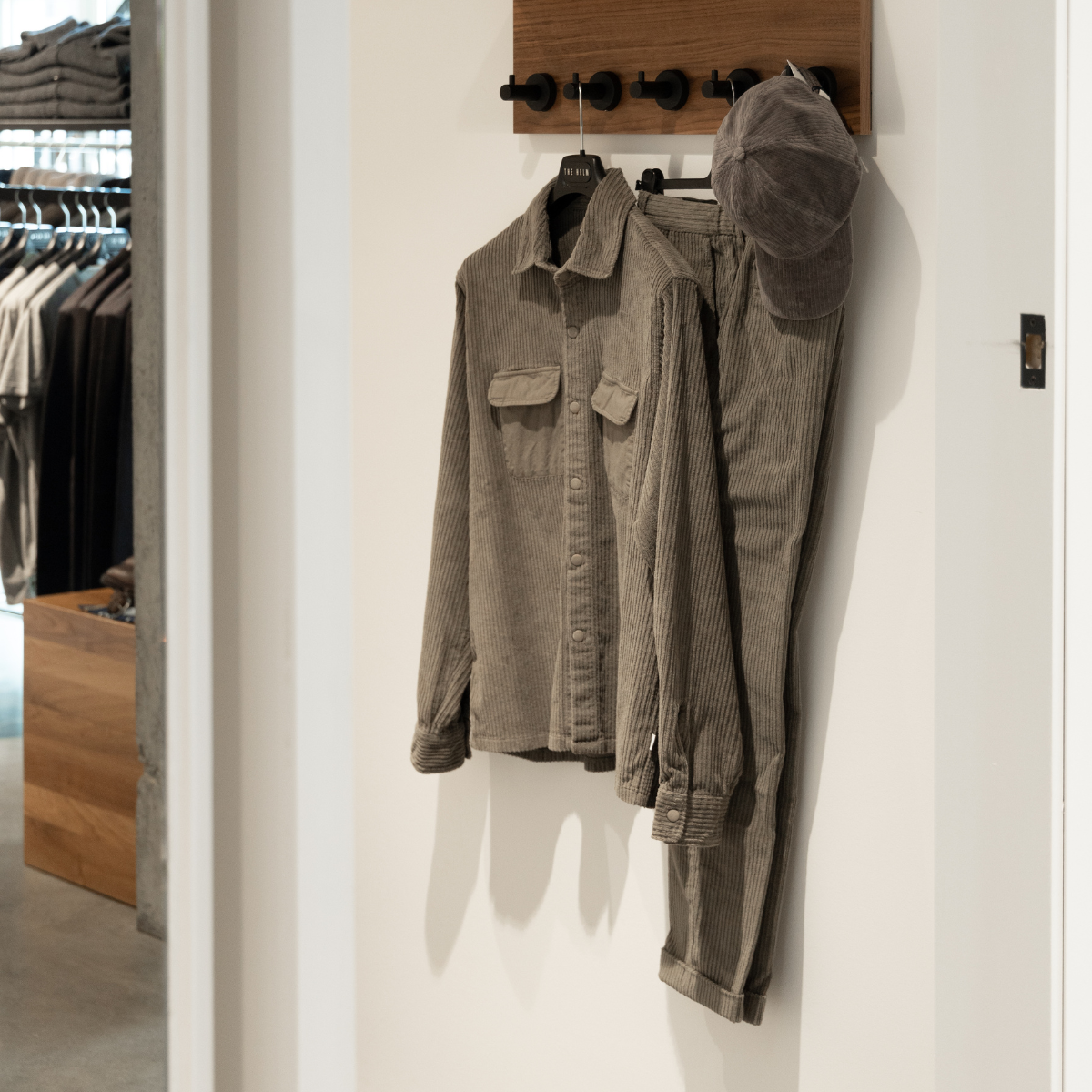 A Trip in a Bag's Corduroy overshirt, pant + baseball cap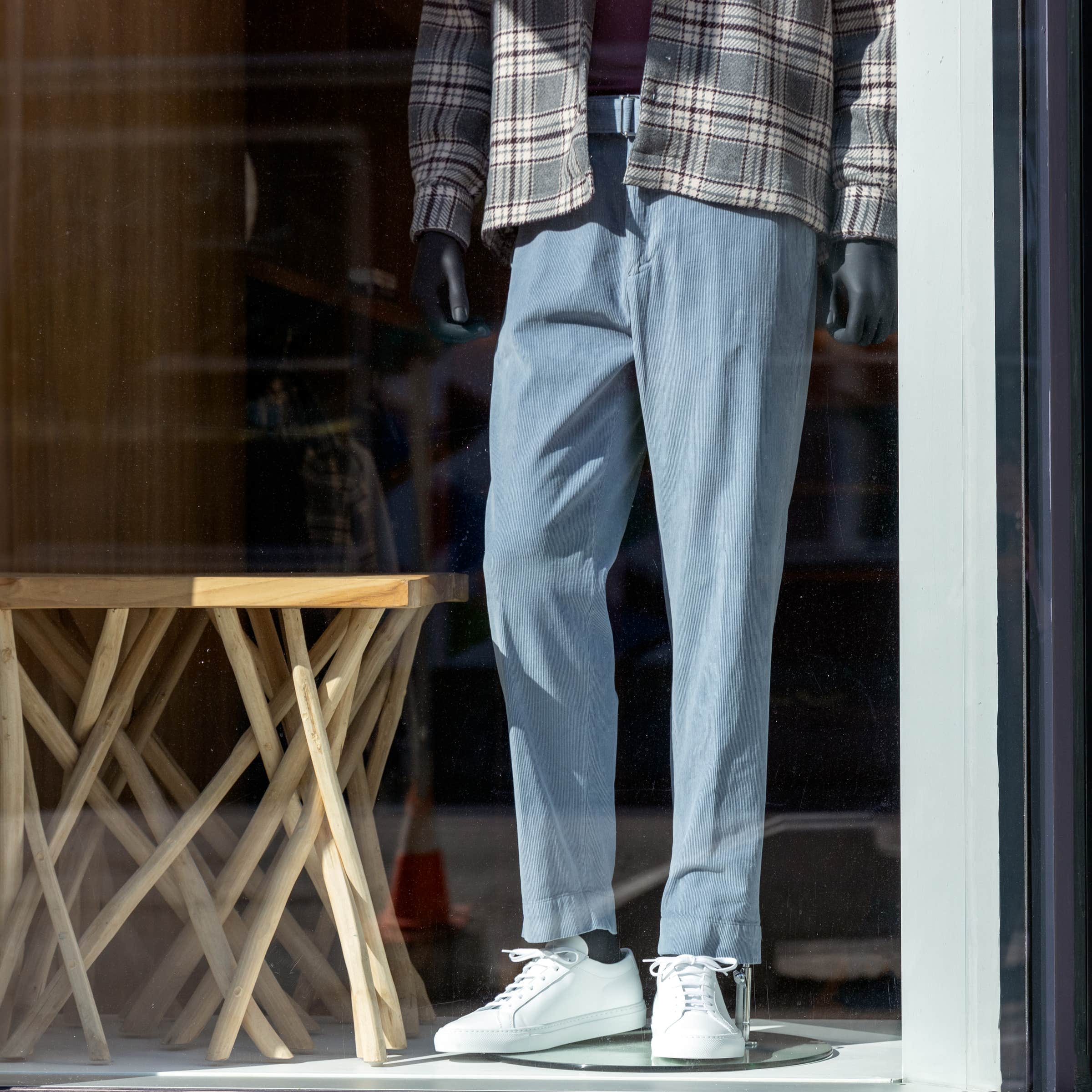 Officine Generale Corduroy Pants
Polo Ralph Lauren Navy Corduroy Puffer
Cashmere:
Cashmere has never been out, but if there's ever been a season it's really 'in' it would be this season. From your light gauge cashmere crewnecks from brands like Brunello Cucinelli and Boglioli to your Oasi Cashmere overshirts from ZEGNA all the way to heavier gauge crewneck cashmeres from Alex Mill, cashmere has found its home in casual wear and luxury wear alike. We love cashmere because it's lightweight and warm, making it a great layering option.
Notable items: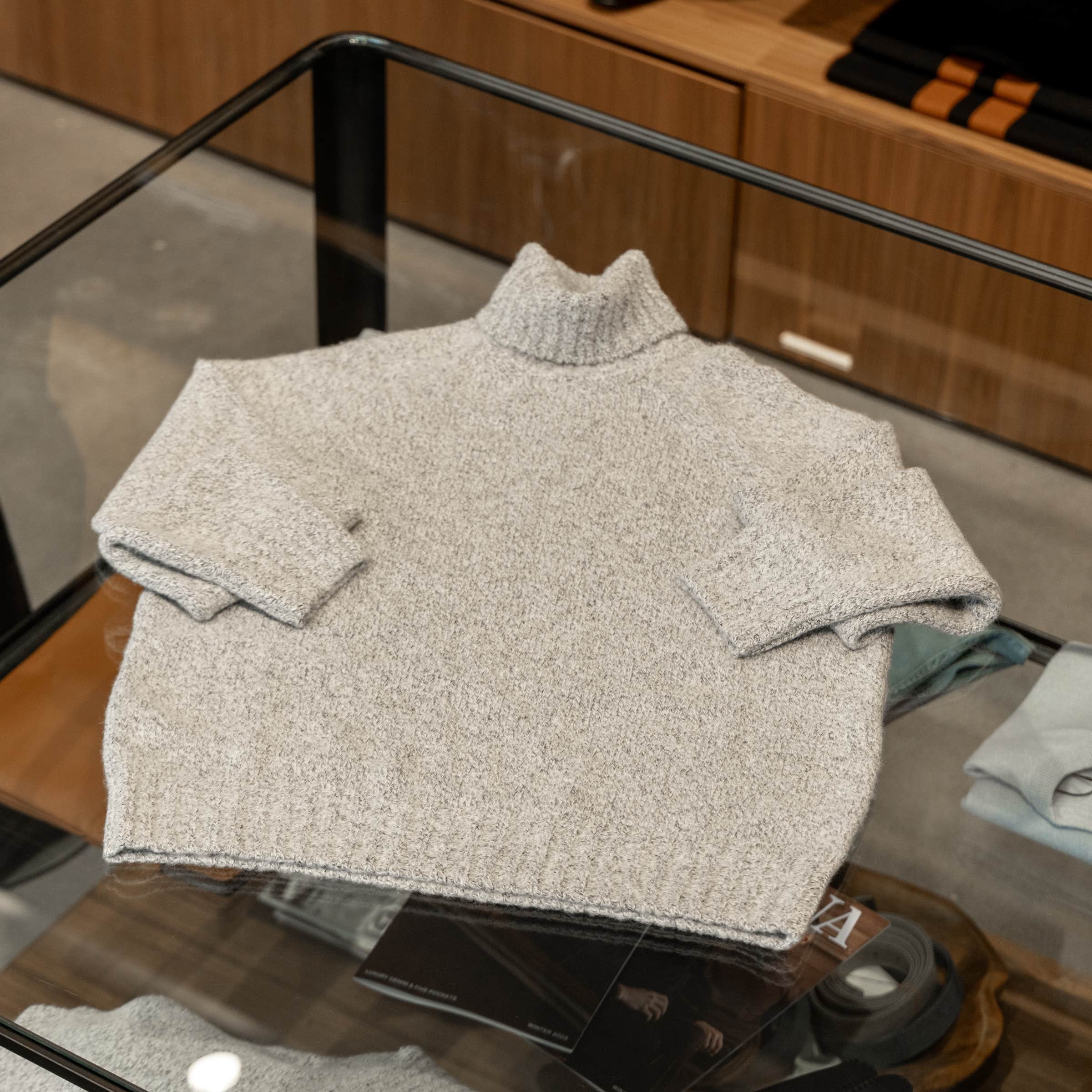 ZEGNA Grey Cashmere Rollneck
Polo Ralph Lauren Cashmere Quarter Zip
Autumnal looks + pops of colour
If you visit our Flagship location, or shop our online store, you'll see muted autumnal tones of burgundy, martini olive greens, and oats across most brands with various pops of vibrant blues, greens and yellows. We're seeing a more diverse colour palette compared to previous seasons which makes it the perfect opportunity to introduce new colours into your wardrobe and push out of your typical colour comfort zone.
Notable items:
Alex Mill Cashmere Crewneck
New + Notable Brands
At The Helm, our mission is to curate a collection of unique brands that have a story to tell. Brands that value craftsmanship, quality and overall, well made items. While we're fairly selective of the brands we decide to carry, we're always keeping our eyes peeled for brands that are making waves in the industry, have a story to tell, and that could provide our customers value. Two brands we're proud to introduce to our lineup this season and beyond are Stone Island and Diemme. 
Stone Island
A cult classic with our friends across the pond, Stone Island has pioneered the art and experimentation of garment dyeing and is known for its innovative approach for clothing and textile technology. While the Italian brand was founded in 1982, it's only just begun to gain traction in North America over the past decade and in recent years has skyrocketed in popularity with attention from American rappers like Travis Scott, A$AP Nast, and Drake. The brand has a unique and distinctive aesthetic characterised by its use of high-quality materials, cutting-edge fabric treatments, and its focus on functionality and durability. Stay tuned for an official Stone Island launch from The Helm in the coming weeks. In the meantime, come see the collection in store.
Diemme
Drawing on inspiration from the Italian Alps, Diemme uses the finest materials and techniques to craft hiking boots and sneakers. Focusing on functional wear and durability, their shoes are designed to go the distance on mountain terrains or city streets. This family owned and operated brand has gained a reputation for producing premium footwear that combines traditional craftsmanship with modern design and materials.
The Highlights
Chunky knits and lightweight crewnecks, rugged leathers and elegant cashmeres, bold colours and muted autumnal tones, your wardrobe basics and statement pieces - this year's Fall Winter 2023 Collection is designed to perfectly complement your current wardrobe comforts while introducing pieces to push you out of your comfort zone. Explore more of our favourites from the categories below and get ready to diverge from your typical wardrobe tendencies this season. 
Easy Returns
We understand that things don't always work out. We offer easy returns in-store or by mail.
See it in-store
Come see the product up close at our Flagship Store.
Pickup in store
For local orders, in-store pickup is available for no cost.
Lifetime Service
Your clothing should always represent you well, whether you bought it yesterday or 5 years ago.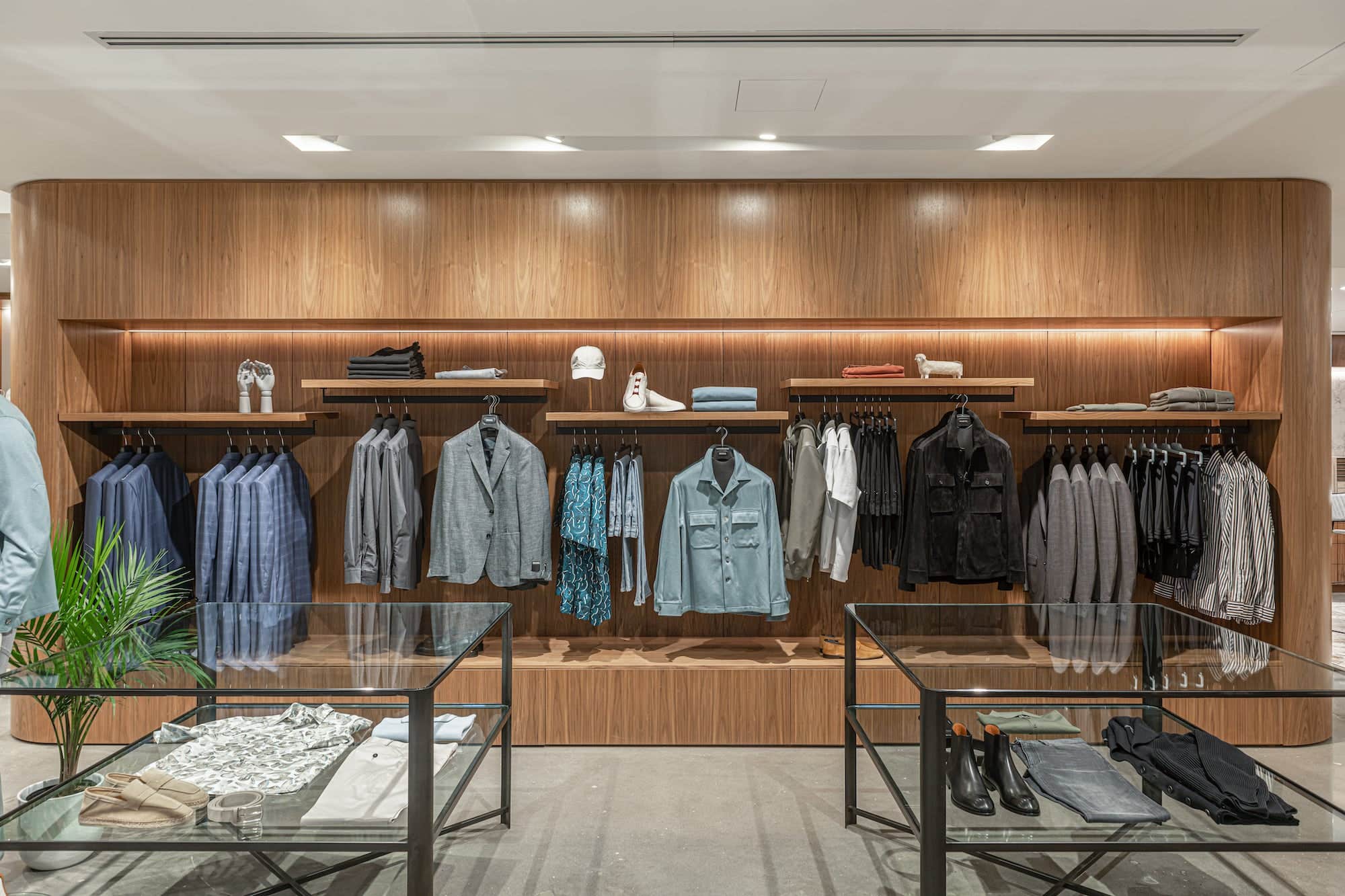 The Flagship
Our brand new flagship store in Edmonton, Alberta is now open to serve you! In our mission to provide Edmonton with an elevated experience, our vision for this store was something spanning multiple floors with a unique experience on every level.